Pics from JB
Here are some pics taken mostly from Danga Bay, JB :) Honestly, it was a rather disgusting beach, but what would one expect of a strait, having Singapore on one side, and Johore on the other :P Time to go to either the East Coast, Sabah, or back home to Kuching for some nice beaches. Hehehe... Danga Bay is rather commercialised, though. Kinda like the Waterfront of Kuching. Though the Waterfront wasn't as gross, last I saw it.
BUT... let it not be said that I can't cam-whore. For effin'ssakes, I take pics of internal organs, and have to utilise TGC and shite like that, I sure as hell can use a digicam and take pics of external things... Uhmmm :P *note: cam-whoring pics not here. wahaha!*
To prove my point, I hogged my friend's digicam for a day.... with permission, but of course. Me is no rude cow....
1) Views from Foon Yew High School, and opposite the famous Foon Yew Rojak Petis Stall-so named because the 'uncle' peddles his rojak outside Foon Yew HS :P ohh... Foon Yew HS is facing a beach, and this is the beach from where I am taking pics.
Dilarang meletak kenderaan... obviously we weren't paying attention :P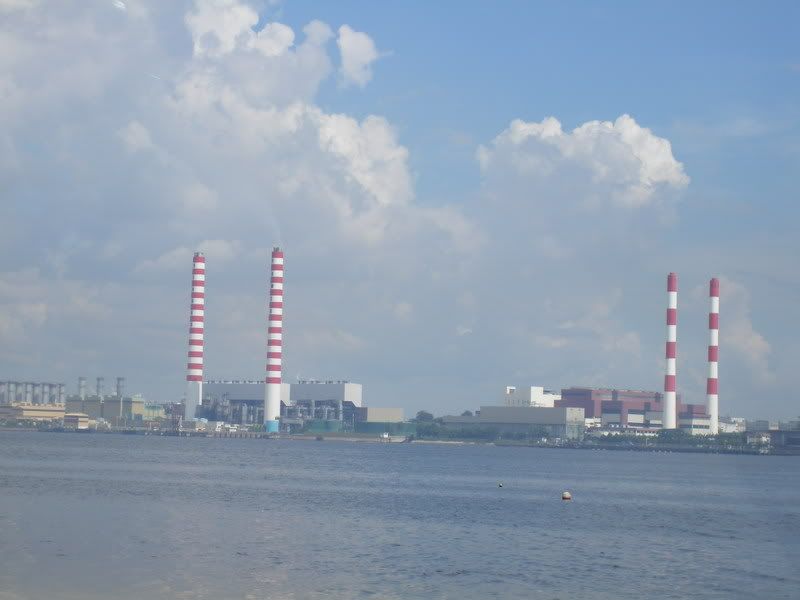 View of Singapore from across the Strait.
Probably the nicest part of THIS particular stretch of beach.
Another view of Sg. from here.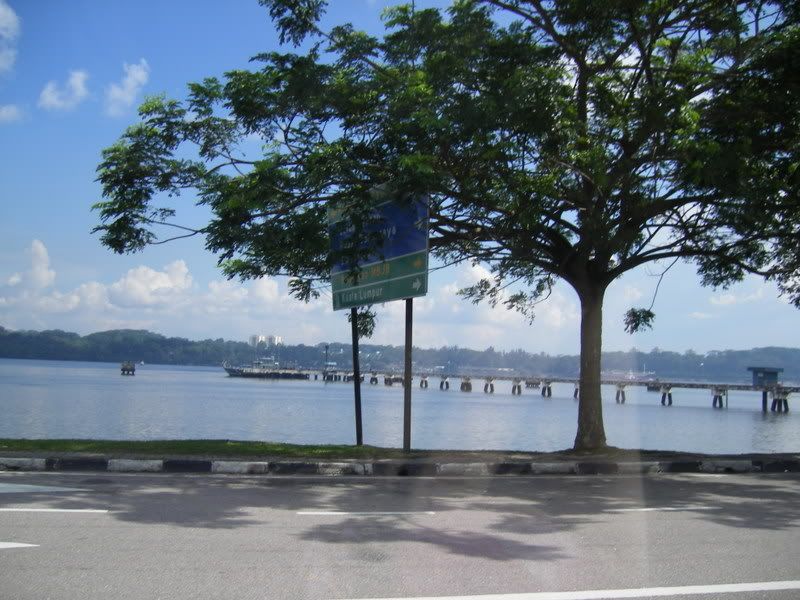 Leaving what I'd refer to as 'Foon Yew HS beachstrip' and heading towards Danga Bay (which is rather nearby). The car stopped long enough at the traffic lights to let me take a view of this pier/jetty.
2) Danga Bay
Little boat... oohh.. little moving boat :P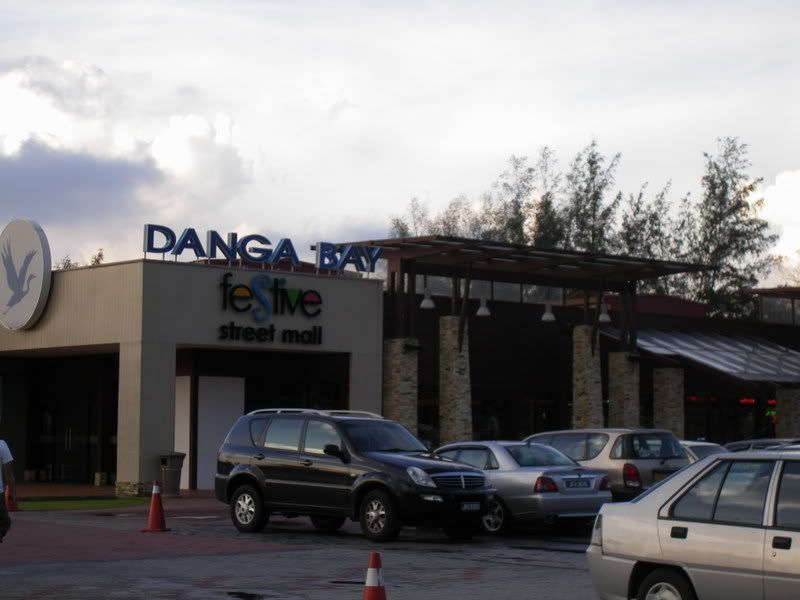 Danga Bay Festive Street Mall: a fancy-schmancy name for a shopping complex. They have some nice bargain stuff. But I was broke, so I bought nothing :)
A pic of the street :P
There were a few lovely ?Malay houses here, and this was the nicest. Outside this house were many lovely orchid plants, in a variety of shapes and colours. There were other plants, too. And it got me all excited :) Love orchids, especially. Was in Orchid House in Secondary School, was in a Department for undergrad, where one of the most famous and notorious professors in the faculty and university was famed for her studies on orchids. Damn lab was filled with orchid plants :) Not that I was complaining. Most importantly, my mom plants orchids :) Too bad that as I was about to take pics of the plants, it started to rain rather heavily, and we had to run for shelter. By the time we got out, which was the time I took this pic, the plants were all covered :(
Danga Bay gateway
We got all excited when we saw this bird. Oh, you know. We don't get to see it in KL :P I've seen it in Kuching, though. By the way, can anyone tell me what this is? Heron? Egret? Stork? Ibis? I could never really tell the difference :)
Rays of light...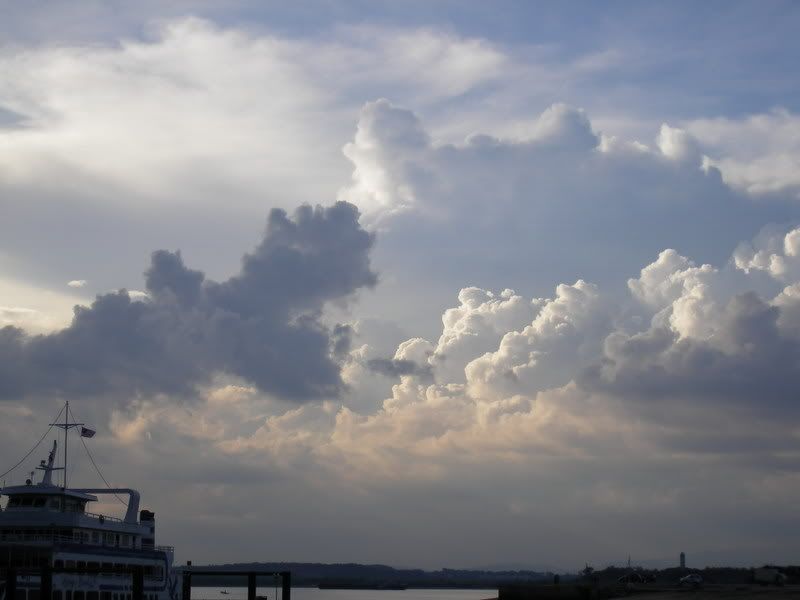 Cloud formation 1
Cloud formation 2
Calm not-so-blue sea :P
Again, cloud formation... and a vessel... :P
Danga Bay restaurants
Danga Bay beach
Lone boat floating...
Sunset over Danga Bay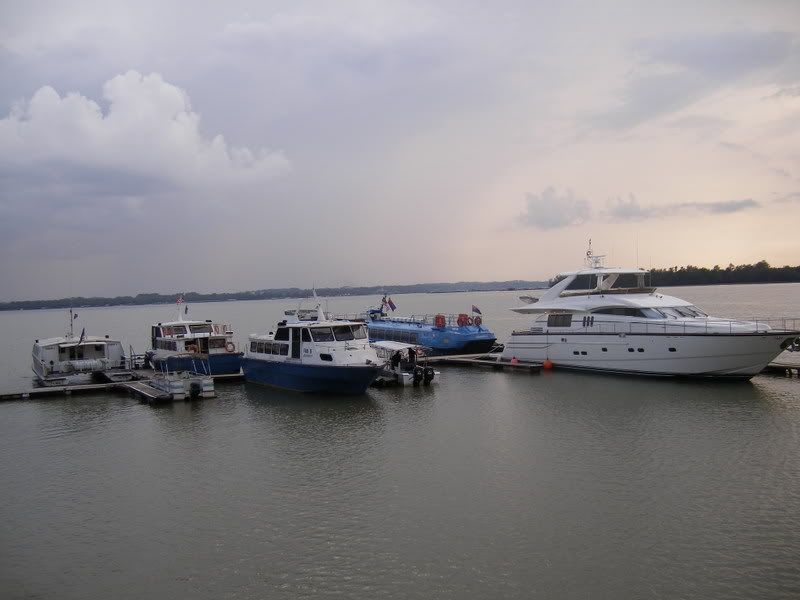 Of course, being where we are, we must take pics of boats...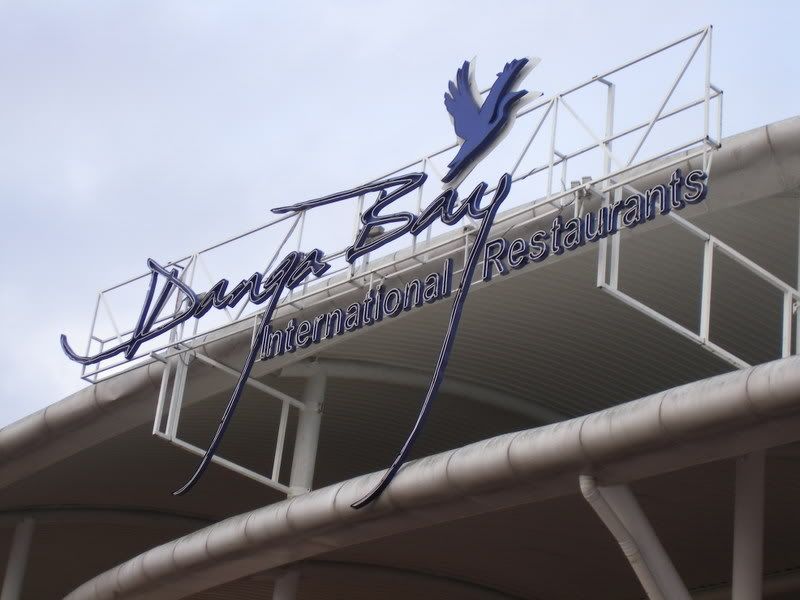 Aahhh... Fancy-schmancy Danga Bay International Restaurants. Here's where the bold and the beautiful people of JB come to see and be seen during the night. :) And the young come to paktoh during the day :P Me? Being neither bold and beautiful, nor young, I'm just a wannabe in lime green patterned beach shorts and a purple tank top :P I know, I know... Colour so the clashing :P SO?
See the yacht in the distance? Minus the sails, yeah..
Foon Yew High School has a kayak-ing team!! Damn, I wished my school had one, too! I was quite green with envy :)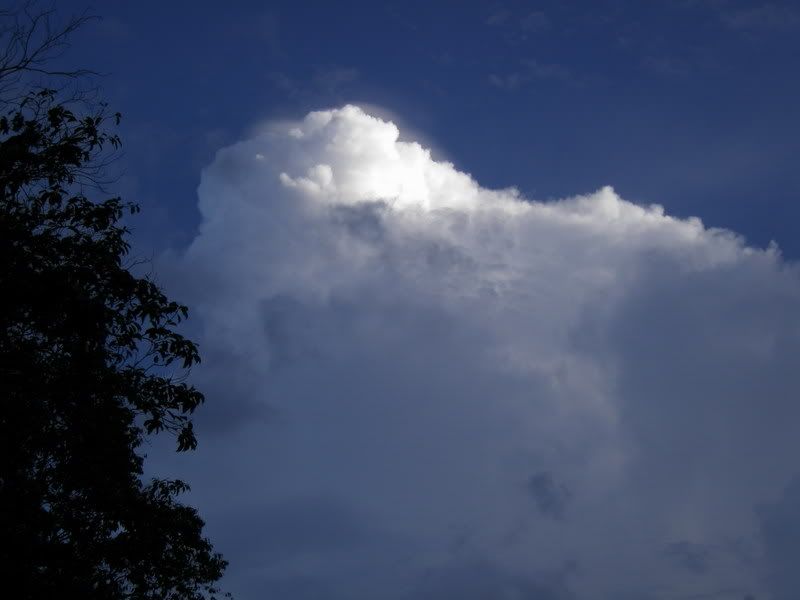 Have you seen a cloud with a halo?? I was quite entranced :)
Here's a close-up
3) Leaving Danga Bay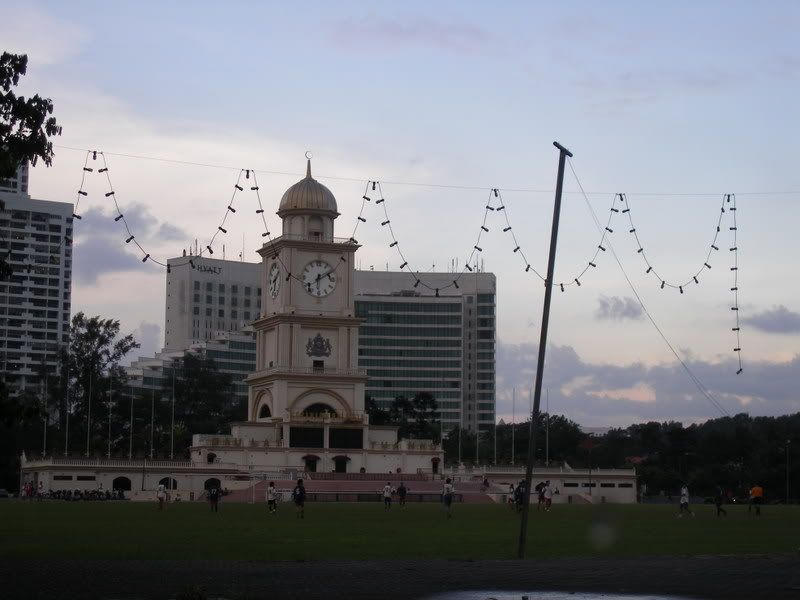 Supposedly, I was told, and do not quote me here, this is the Clock Tower of JB. Apparently, every self-respecting reasonably old city should have a clock tower :P
I think this is the Sultan Abu Bakar Mosque. :) I sure hope I read the sign right.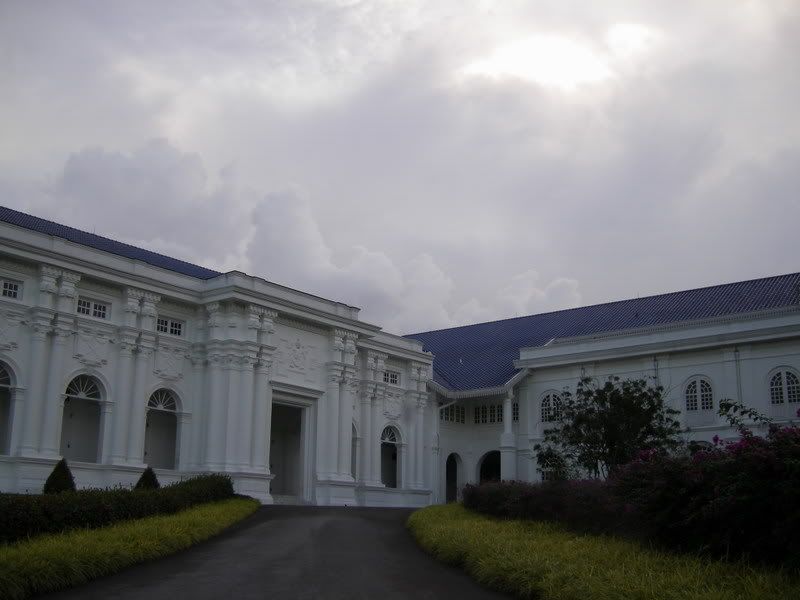 The Palace Museum, JB. According to my friend, the royal family used to live here. Now, well, people come here to jog. The palace grounds is quite a lovely place for some exercising, apparently. Breathe the air the royals used to breathe :P
The stairway of the Palace Museum
TADA!! The tale of 23 November 2006 comes to an end. That's all, folks!!